Deploying any changes to your drop will require a small gas fee.
After uploading, navigate to your profile in the top right and select Artist Dashboard in the dropdown menu. Find the release you want to edit, click the ellipses next to it and select the Edit button.

Alternatively, you can edit the drop from the song's page by clicking the ellipses next to the Share button.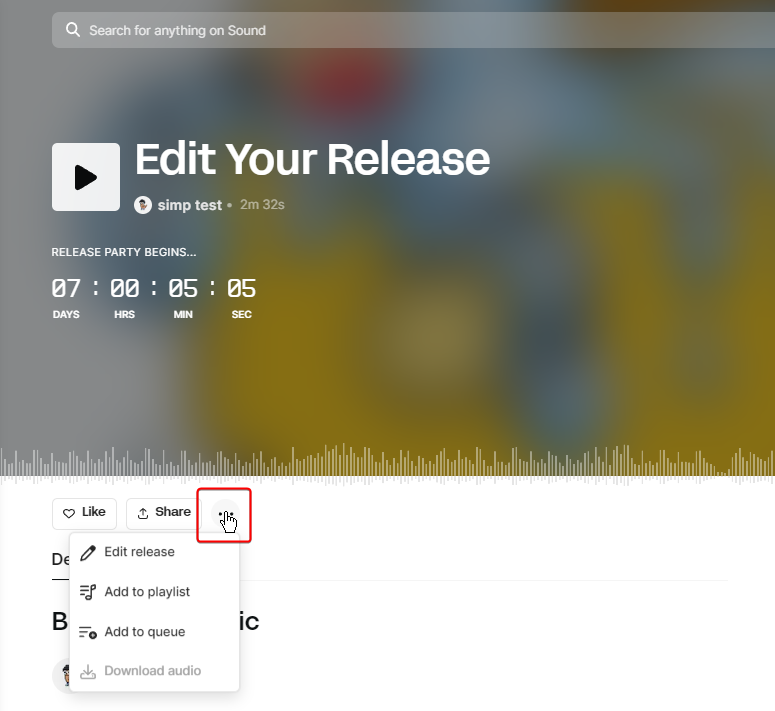 🚨 Try to make your edits before the sale ends or else you 
will be limited by what you can edit.
Release Info
You can edit any part of the Release info at any phase EXCEPT the token symbol. If you edit the song title then the URL will change so be sure to update any links you need to.
Splits
You can edit the credits & splits on your release at any point. Any changes you make will be effective going forward (proceeds were already distributed prior to your change and cannot be reversed).
Drop Configuration & Presale
You can change any of the drop configuration details before the respective phase ends or sells out. You can never change the drop type.
Presale
Before the presale ends, you can edit the allow list and any of the presale details.
If you added a presale during the upload, you will not be able to fully remove it. If you didn't add a presale during the upload, then you won't be able to go back and add one.
Public Sale
Before the public sale ends or the drop sells out, you can edit any of the public sale details.