MetaMask is a great choice for anyone looking for a secure and reliable wallet to store their crypto tokens and interact with dApps. It's easy to use, even for beginners, and it offers a wide range of user-friendly features.
1. Installing MetaMask
Go to metamask.io/download and download MetaMask on your preferred device/browser.
Compatible Browsers: Google Chrome, Firefox, Brave, and Edge
Compatible Devices: IOS & Android
2. Getting Started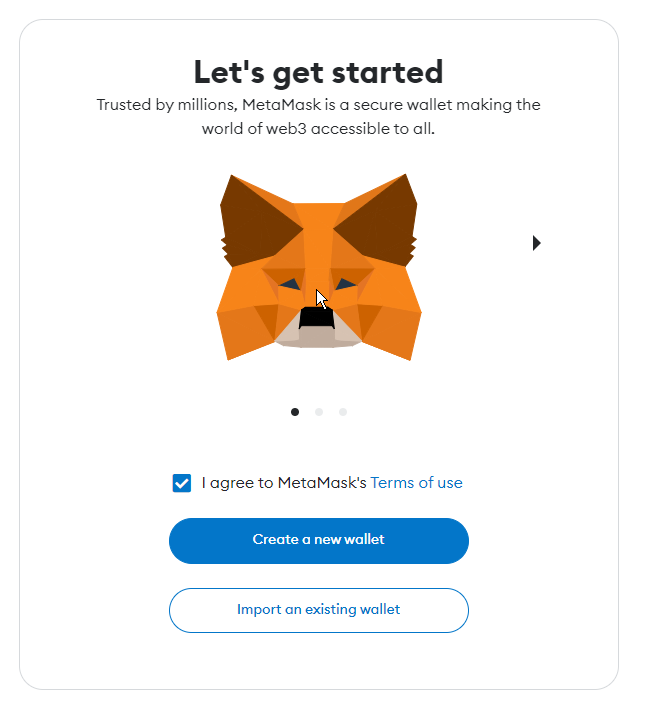 Once you have installed MetaMask, you can:
Create a new wallet: This is for users who want to set up a brand new wallet. You will receive a Secret Recovery Phrase which you NEED to write down for safekeeping.
Import wallet: This is for users who already have a wallet, you can import an existing wallet by using your Secret Recovery Phrase.
3. Secret Recovery Phrase - Securing your Wallet
If you are creating a new wallet you will be given a 12-word Secret Recovery Phrase.
⚠️ Write down your Secret Recovery Phrase (do not store digitally) and 
store it in a safe place! Do NOT share it with anyone. 
You will need the Secret Recovery Phrase if you ever lose access to your wallet, switch devices, or switch wallet applications.
Once you have saved and confirmed your Secret Recovery Phrase you can complete the installation process and start using your wallet.